My Opinion: (New) Blink-182, Angels & Airwaves, Rammstein tracks and more
Posts are becoming few and far in between owing to various life commitments but what's the point of owning one if I don't make use of it to air my opinions right? Let's use the next few minutes (I swear reading time doesn't take more than 15 minutes) to read about what I truly thought about the new tracks by Blink-182, Angels & Airwaves, Rammstein, a blurb about Kelly Clarkson and that Avengers movie. Yes, Endgame – Readers beware, Spoilers ahead.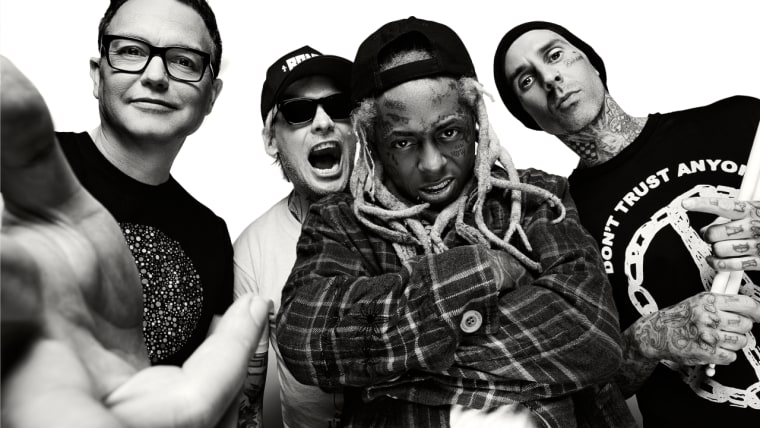 1) Blink-182: Slaughtered "What's My Age Again" and Blame It on My Youth
The picture above is everything wrong about my favourite band. Lil' Wayne is bad company and just not a good mix for pop-punk dudes – a one-off tour is fine; we can pretend that it didn't happen after but do you have to slaughter my beloved "What's My Age Again" with a Donald Duck voice? Ugh. Witness the slaughter below:
I'm damned indeed. I can't erase this out of my ears.
Things did not get any better. Other than lunch hour that I look forward to at work that fateful day, I was eagerly anticipating for the chance to stream the band's new single "Blame It On My Youth". Indeed, I blame it on the tons of needless additional songwriters and production to make this sound like Imagine Dragons and anything but Blink-182. What happened to the band from my youth? Tim Pagnotta, I truly love and respect you for what you have created in Sugarcult (I love Champagne!) but please, please, stop playing around with Blink-182 alright? While you are out of the door, please drag Samuel Hollander out as well. There are other bands that you can work your generic pop magic on.
Take a listen below. It made my constipation worse.

2) Angels & Airwaves: Rebel Girl
I have a love-hate relationship with Tom Delonge, the guy who left Blink-182 twice for his crazy space/alien project. I have not bought an ounce of whatever he was feeding the internet to this date and was sceptical when Angels & Airwaves resurfaced with a new track a few days before Blink-182 released theirs. I was expecting it to sound U2 wannab-ish, but was really surprised by how catchy it sounds. It's pretty decent, to say the least:
Is the album worthy of me giving it a chance? The verdict is too soon to tell – let's wait for the next single.

3) Rammstein: Radio
I picked up German in University for the sake of appreciating what Rammstein sang, and what their songs meant. I can still recall what the German tutor (a Frau Geiser) said to me when I had to share in class what my motivation for her attending her class is. She said Rammstein's lyrics are full of sarcasm, cynical and at times, poetic. Musically, they can never do any wrong in my opinion, even if Radio sounded like a Du-Hast B-side. The video is NSFW, as with everything they have released.
I still have high hopes and expect a lot from their new album. Ich liebe Rammstein. Do I hear a Ich auch too?

4) Kelly Clarkson's Medley at the Billboard Music Awards
I don't really give a damn about pop music, much less the Billboard Music Awards. Thanks to youtube's recommendations, I discovered that Kelly Clarkson has the ability to make songs that I would have never clicked play on, Listenable.
I checked out the original versions of some songs after, and could not last a single minute. True story. Pops to you Kelly.

5) Avengers Endgame
After 20+ movies, and countless money spent, the Russo brothers won't even spare us with the duration of the finale. Indeed, the completion of the movie is more than sufficient to complete the air-time from Singapore to Bangkok. If you make me sit through a movie of such duration, I sure as hell am going to give my 2 cents worth.
I must confess that I must be one of the rare folks who did not really like Endgame for various reasons. Thanos sacrificed his precious daughter Gamora, for the soul stone. If the writers allege that Hawkeye and Natasha weren't having an affair prior to her sacrifice for the stone, I will jump off the cliff myself. Call me unromantic, but didn't Captain America and Peggy Carter meet for 10 minutes before he decided that she is the one true love for him? I find that dodgy and weird. In addition, by doing what he did, didn't he just alter Peggy's otherwise fulfilling life? That's selfish, dude. Captain Marvel's hairstyle look dated but it explains that she is stuck in the 1990s.
The saving graces were in the exchanges between Frigga and Thor, Wise One and the Hulk but Tony and Howard's looked extremely forced. That said, go watch it if you must to witness the conclusion, especially if you have already devoted time and effort over the years.