Review: Florence + the Machine: High as Hope Tour – Perth
The thing that strikes you most at every Florence + the Machine concert is how different Florence Welch the individual is, from Florence Welch, the artist. It was a huge, soulful and flawless voice who performed all seventeen songs and took control of the audience on Saturday night at the RAC Perth. However, when she was bantering with the audience, she emits a high pitch child-like speaking voice. Understandably, she has a shy personality, and she lets her music do the talking.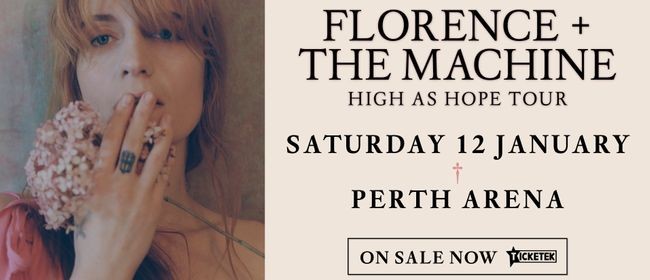 From the moment Florence Welch and her eight piece band popped on stage for June to open the concert, it was evident that the audience was in for a treat. Throughout the 100 minute set… showcasing mostly tracks from the latest album High As Hope, the band did not miss a note. Ever the hippie, she encouraged the Perth crowd to turn and embrace each other. During one particular moment, Welch managed to conjure the audience to put away their mobile phones to enjoy the experience… the next moment, the crowd obediently lit up their phones at her request for Cosmic Love. Such was her irresistible charm.
Florence took an opportunity to pay homage to Patti Smith before breaking into Patricia. She further explained that while the song is mostly about Patti Smith, the angry part of the song" isnt. Toxic masculinity was what she was referring to and the men in the crowd cheered when Florence added that if you are here at the show, you probably do not have that.
The highlight of the show was when Welch ran to the back of the standing area before Delilah and jumped into the pit to interact the many worshipers who were trying to get a hold of her.
I wish more can appreciate a well-read musician with a huge voice like Florence Welch. I wish more can appreciate the efforts of her band. With bands like Florence + the Machine, it gives listeners hope that there is still soul in modern music.
The article first appeared on Radio13